Polymer Processing
In 1970, the Institute of Polymer Processing (Institut fuer Kunststoffverarbeitung KV) was one of the two founding institutes of the Department of Polymer Engineering at the Montanuniversität Leoben. Within the last 50 years it has developed into a modern, efficient and recognised research institute. The basis for this is a team of highly quali-fied and motivated employees.
This page is currently being translated into English. We ask for a little patience. For more information please visit the German page.
The Institute of Polymer Processing holds basic funding from the Montanuniversität Leoben for one full professor, three scientists and four non-scientific staff members. The total number of staff, excluding study assistants and research fellows (typically five to ten Austrian and international students or researchers support us), is currently 18; thus, more than 50 % is financed by third-party funds.
In order to be able to optimally manage the rapidly growing institute, a sustainable institute structure was created with three working group leaders:
Injection Molding & Recycling, Assoc.Prof. Dr.mont. Thomas Lucyshyn
Extrusion & Additive Manufacturing, Dipl.-Ing. Stephan Schuschnigg
Material Data, Dr.mont. Ivica Duretek
Lehre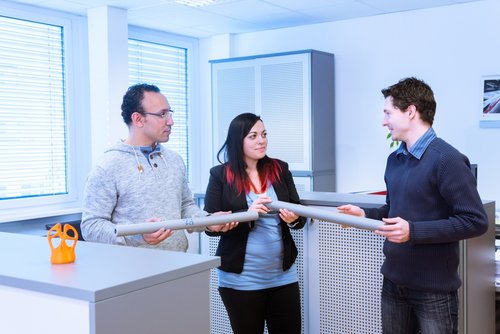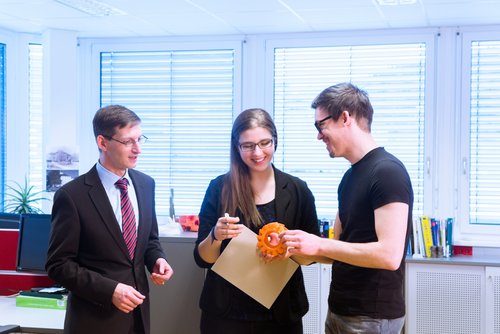 Umfassende Ausbildung
Abgesehen von den Einführungsvorlesungen findet die Lehre des Lehrstuhls für Kunststoffverarbeitung vor allem in den höheren Semestern statt. Die Studierenden bekommen eine umfassende Ausbildung in der Kunststoffverarbeitung von den Grundlagen bis hin zu speziellen Gebieten, die im umfangreichen Wahl- und Freifächerangebot vertieft werden können. Der Fokus liegt dabei auf der Verarbeitung von Thermoplasten in den klassischen Verarbeitungsverfahren Spritzgießen und Extrudieren ergänzt mit Grundlagenwissen im Blas- und Thermoformen.
In den Grundlagen wird vor allem vertieftes Verständnis des Materialverhaltens von Polymeren in Hinblick auf das Fließverhalten bzw. thermodynamische Prozesse wie Aufschmelz- und Abkühlvorgänge vermittelt. Es wird stark auf die gegenseitige Beeinflussung von Materialverhalten und Prozessbedingungen eingegangen, um im Berufsleben durch tiefgehendes Material- und Prozessverständnis bestehende Verarbeitungsprobleme lösen bzw. neue Prozesse entwickeln zu können.

Übungen & Praktika
Neben den Vorlesungen finden Übungen und Praktika statt, in denen der Umgang mit Verarbeitungsmaschinen und Messtechnik sowie moderner Simulationssoftware geübt wird. Dadurch lernen die Studierenden das selbstständige Arbeiten an den Anlagen und den Simulationsprogrammen.
In den Bachelor- und Masterarbeiten werden die Kompetenzen aus den Vorlesungen und Praktika noch weiter vertieft. Meist handelt es sich bei den wissenschaftlichen Arbeiten um Tätigkeiten in Projekten gemeinsam mit unseren Industriepartnern. Die Studierenden lernen so das Mitwirken in Projekten und werden mit den Grundlagen des Projektmanagements vertraut gemacht und leiten selbst kleine Projekte.